I Just Got an OUI Charge in Connecticut – Will I Lose My License?
Most people associate drunk driving charges with the term "DUI." It stands for driving under the influence of alcohol or other controlled substances. Connecticut works in a different way. If you have a .08 BAC or higher while operating a motor vehicle here, you will get charged with OUI – operating under the influence. 
Just because the name is different, though, don't assume the penalties are. You can face incarceration and fines. You can be made to have an ignition interlock device installed. And, of course, you can lose your license.
Is that what always happens, though? Do you automatically lose your license for an OUI charge?
Below we're going to delve into that question and explain how OUI charges in Connecticut work.
Will You Lose Your License When Charged With OUI in Connecticut?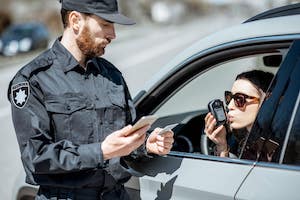 The short answer to this question is no. A charge is not the same as a conviction. OUI charges just mean prosecutors have an opportunity to prove that you were driving under the influence. 
If they can, then you face conviction. Americans are innocent until they are proven guilty, so there is a chance that the prosecution's argument is not sufficient and you walk away from court without a conviction. 
Insufficient evidence is one of many ways to defend against OUI charges. Breathalyzers are not as accurate as you think, and other search and seizure laws could come into play. 
Building a defense strategy is crucial to keeping your license because you can lose your license at two other points in the process after getting arrested for OUI. 
When Can You Lose Your License After a Connecticut OUI Arrest?
The primary reasons you might lose your license after getting arrested for OUI in Connecticut are because either you failed or refused a chemical test or prosecutors were successful in proving you were operating under the influence.
When You Refuse a Chemical Test
When you picture an OUI arrest, you probably picture a law enforcement officer gauging the person's BAC through a chemical test. Chemical tests require the use of blood, breath, or urine to measure the amount of alcohol in a person's bloodstream.
In some states, you can refuse to take this kind of test. Connecticut is not one of them. This test falls under the guidance of "implied consent laws." 
When you apply for a Connecticut driver's license, you consent to all chemical tests to determine whether or not you are driving under the influence. Otherwise, you may face criminal penalties. 
Refusing to take a chemical test will result in penalties, including license suspension for 45 days. Other penalties include up to a year behind bars.
When You Fail a Chemical Test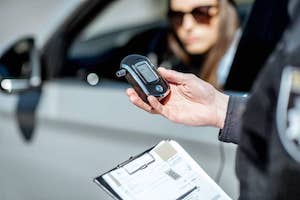 If you "fail" the chemical test, you will also face license suspension. To "fail" a chemical test, any person who is over the age of 21 must register a BAC of .08 or higher. Drivers under the age of 21 "fail" a chemical test if their BAC breaches the .02 mark.
After you are arrested and charged with OUI, law enforcement officers submit a report to the DMV. If the failure or refusal to take a breath test are on the report, your license will be suspended. 
You will get a notice of suspension in the mail and will have a week after receiving that notice to request a hearing. Notices of suspension typically arrive in the mail 30 days after the offender is arrested. 
Upon OUI Conviction
When you are charged with OUI, you still have a chance to fight back. You and your criminal defense lawyer can build a strategy that questions the prosecutor's evidence or shows that you were falsely accused of OUI. 
If the court finds you guilty of OUI, they will suspend your license. 
First-time OUIs are a misdemeanor offense — although you may face additional charges if you had .16 BAC or injured someone while driving. Penalties for a first OUI include:
At least 48 hours of mandatory jail time
Up to six months in jail
100 hours of community service (in exchange for a jail sentence)
Probation
Up to $1,000 in fines
Up to 45 days without a license
Mandated ignition interlock device (IID) for six months (1 year for those under 21)
Offenders will also have to pay fees in order to get their licenses restored or to install an ignition interlock device in their car. 
A judge can set many terms for probation, including additional fees of $200. Furthermore, penalties increase if you are convicted of a second or third OUI. Second-time offenders may face mandatory counseling or additional time behind bars. 
Losing Your CT License is Expensive – So Face OUI Charges Head-On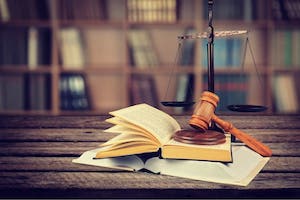 Fines, fees, and restitution can add up pretty quickly after an OUI conviction, but you don't necessarily have to face any of the harsh penalties. 
Not all OUI arrests are made with chemical testing. Not all chemical tests are accurate or reflect how much alcohol you had in your system. 
Reach out to a Connecticut OUI lawyer for more information on fighting back against OUI charges and keeping your license.
About the Author
Douglas D. Rudolph practices criminal defense law with two guiding principles in mind: that you are someone who deserves to be treated with dignity and respect, and that you are innocent until proven guilty. Those are beliefs that have served him well so far in New Haven and across Connecticut, where he has built a reputation as someone who truly cares about his clients and will fight aggressively for them. His work has earned him a number of prestigious awards, including landing on The National Trial Lawyers Top 40 Under 40 list two years in a row and being named to the Top 10 Under 40 by the National Academy of Criminal Defense Attorneys in 2018.
Client Reviews
Get in Touch
Fill out the contact form or call us at
(203) 343-7579
to schedule your free consultation.
1

Proven Record of Success

2

Free Consultation

3

Contact Us Today