New Haven DUI/DWI Lawyer
Connecticut DUI / DWI Attorney
Contact the Law Office of Douglas D. Rudolph for DUI / DWI Defense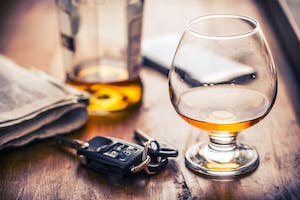 Connecticut is notoriously tough on drunk driving. The charge of Operating a Motor Vehicle While Intoxicated (C.G.S. 14-227) — Driving Under the Influence (DUI/DWI) — may result in serious consequences including license suspension, fines, and jail time. It is therefore important to contact a Connecticut DUI/DWI attorney after an arrest for a DUI/DWI.
Connecticut drivers charged with a DUI/DWI face penalties from both the (1) Connecticut Criminal Court, and (2) Connecticut DMV. Because of this, DUI/DWI charges can be complicated, and the process moves very quickly. DUI/DWI attorney Douglas D. Rudolph will aggressively fight your charges in court and challenge your license suspension with the DMV.
If this is your first DUI/DWI, ask a Connecticut DUI/DWI attorney if you are eligible for a diversionary program. For first-time DUI/DWI offenders, you may be eligible for the Adult Education Program ("AEP"). The AEP is facilitated through the state of Connecticut and consists of 10-15 alcohol education classes. DUI/DWI attorney Douglas D. Rudolph will carefully prepare your application and argue for your admission into this program in court. If the court accepts your admission into the AEP, upon completion of the program, your DUI/DWI charges will be dismissed and your criminal record of this incident will be erased.
Connecticut imposes substantially harsher penalties for subsequent (2nd or 3rd) DUI/DWI arrest. The 2nd DUI/DWI conviction has a mandatory minimum jail sentence of 120 days, which jumps up to 1 year for the 3rd conviction. Your Connecticut DUI/DWI attorney will aggressively defend these charges, by going through the available evidence, investigating police procedures, and whether the arrest complied with Connecticut statutes and DMV regulations. Upon review of the evidence, attorney Douglas D. Rudolph will discuss your case with you, providing you with your potential options and defense strategies.
In addition to fighting your charges in court, Connecticut DUI/DWI attorney Douglas D. Rudolph will fight your license suspension with the DMV. Upon a DUI/DWI arrest, your license is immediately suspended for 24-hours. After that, your license will be briefly reinstated until you receive a suspension notice from the Connecticut DMV. In this letter, the DMV will describe the date and length of your suspension (minimum of 45 days). A good Connecticut DUI/DWI attorney will schedule a hearing (called an Administrative Per Se hearing) with the DMV and argue against a license suspension on technical or constitutional grounds. Your attorney can also assist you in receiving a Special Operation Permit so that you may still drive to work or school while you're under a license suspension.
With the many moving parts involved in DUI/DWI charges and the hefty penalties you may face, it may be risky to try to go it alone. An experienced Connecticut DUI/DWI defense attorney who knows the system can help you reach the most favorable outcome.
The Law Office of Douglas D. Rudolph offers a free consultation for individuals charged with a DUI/DWI. You may call ((203) 343-7579) or email (douglas@rudolphdefense.com) us directly for an appointment, or fill out the form below. We will respond to your inquiry shortly to discuss your case and set up an appointment.
Call us today at (203) 343-7579 or contact us online.
Client Reviews
Get in Touch
Fill out the contact form or call us at
(203) 343-7579
to schedule your free consultation.
1

Proven Record of Success

2

Free Consultation

3

Contact Us Today